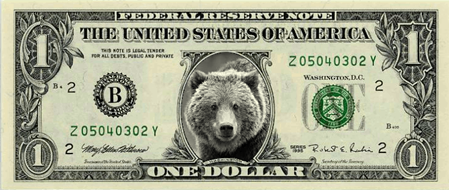 Bear Bucks are little pieces of fake money we use here at Roosevelt to reward great students! Once you have earned some Bear Bucks you can spend them at the Bear Buck Store! The back of your Bear Buck must be signed by a teacher for you to use it!
What are tips to earning more Bear Bucks?
Try your best! Teachers appreciate honest effort!
Be a great helper! If you don't know how to help, ask!
Do the right thing, even when you think no one is watching!
Practice, practice, practice! Your teachers want you to grow and get better!
How do I earn Bear Bucks?
You earn Bear Bucks by doing your very best at school each and every day! You won't get a Bear Buck every time you are nice or a good helper in class, but you might! Bear Bucks are for kids who work hard, play nicely, and make school better for everyone! If you are not sure how to earn a Bear Buck, ask your teacher!
What can I buy with my Bear Bucks?
A lot of teachers have mini-Bear Bucks Stores in their classrooms with neat little things that you can get for just a few Bear Bucks. There is even a $2 Bear Buck Store in the Front Office!
But the really expensive items are in the Bear Bucks Store right by the front doors. There are items that cost $10 and some that cost $100! Save up your Bear Bucks to get bigger and better things!